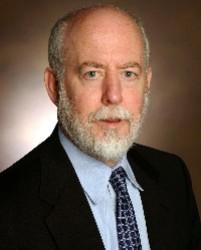 Edward K. Shultz, MD, MS, FACMI
Department of Biomedical Informatics, Emeritus
Information Technology Integration
Edward K. Shultz, M.D., M.S., is Associate Professor of Biomedical Informatics and Associate Professor of Pathology in the School of Medicine at Vanderbilt University.  He is also Director of Technology Integration at the Vanderbilt University Medical Center. In those capacities he defines an informatics technical architecture that will scale up to support our evolving enterprise, for directing technical support for the server and application development infrastructure and for enterprise level decision support databases. He provides a bridge between the basic research activities within the Department and the units that support operational systems in the hospital, clinics, and affiliated sites.
Dr. Shultz joined the faculty at Dartmouth-Hitchcock Medical Center in 1984, and began a long and productive career in the fledgling field of Biomedical Informatics. Dr. Shultz has gained national recognition through his research, teaching, and service while at Dartmouth, and was promoted to Associate Professor of Pathology in 1990. He served as Director of the NIH/NLM-sponsored Dartmouth Medical School Training Program in Medical Informatics from 1989-1994, and Director of the Dartmouth Program in Medical Information Science from 1988-1996. He was elected to Fellowship in the American College of Medical Informatics in 1992. He was selected to serve on the Editorial Board of the Journal of the American Medical Informatics Association from 1994 until 2000. He chaired the national Department of Veteran Affairs Expert panel on Inter-application communication from 1992-1996, and served as a member of the Department of Veteran Affairs Integration and Technology Applications Requirements Group from 1991-1996. Dr. Shultz's research experiences in biomedical informatics have ranged from applications in clinical chemistry and mathematical modeling techniques to computer-based innovative approaches to medical education, and man-machine interfaces related to clinical systems. At Dartmouth, he created the first hypermedia based model of a clinical workstation, the Interactive Medical Record, which has had widespread influence on the field. He has been interested in the area of telemedicine, and created a home monitor for cystic fibrosis patients at Minnesota, and at Dartmouth showed that computer linkage of diabetic patients in their home environments to their providers could demonstrate healthcare benefits. He was Principal Investigator or co-PI on 7 grants totaling $2.1 million. At Dartmouth, Dr. Shultz was the Director of the nationally recognized Program in Medical Information Science for seven years and the Director of a National Library of Medicine Informatics Training Program for five years. Dr. Shultz participated in teaching postdoctoral trainees (residents and fellows) in Pathology, as well as postdoctoral trainees in biomedical informatics (through his directorship of the NIH-sponsored training program). Dr. Shultz established the first computer network at Dartmouth Medical School, gradually expanding the linkage to include a pioneering microwave link to the affiliated Department of Veteran Affairs hospital. Dr. Shultz served on a number of local and national committees during his time at Dartmouth. He has served as an ad-hoc reviewer on a number of NIH Study Sections related to computer applications in medical care from 1988-present. He chaired the Automated Data Processing Committee at Dartmouth's Veterans Administration Hospital from 1985-88, and served as a member of the Pharmacy and Therapeutics Committee from 1993-96. He chaired the American Medical Informatics Association's Professional Specialty Program group during 1992-93. Within the American Society of Clinical Pathologists, he has served as a member of the Council on Informatics (1991-96), a member of the Educational Materials Advisory Committee (1995-present), and a member of the Future Directions Committee (1995-present). He chaired the Education and Hypermedia section of the national meeting in medical informatics (SCAMC) in 1989, and chaired the Education section of the American College of Medical Informatics meeting in 1991. He chaired the national Technical Committee of the Agency for Health Care Policy and Research on "The Feasibility of Using Existing Automated Ambulatory Health Care Record Systems for Outcomes Research".
Dr. Shultz obtained his M.D. from Yale University School of Medicine. He completed an Internship in Clinical Pathology at Barnes Hospital, Washington University St. Louis, in 1979-80, and Residency training in Clinical Pathology at the University of Minnesota from 1980-84. During the latter training, he was supported by an NIH Post-doctoral fellowship, in the Division of Health Computer Sciences in the Department of Laboratory Medicine and Pathology at Minnesota, and obtained a Masters degree in Biophysics (Mathematical Modeling).